SEPTEMBER 2023
AUXILIARY COLLECTED BAGS FOR 6 MONTHS…
The Auxiliary collected bags for 6 months and ended up with 310,000. That total allowed us to make four benches. We have the 4 benches and they are placed at the Airport Holiday Inn where the Dept Convention is held,Drake University where Girls State is held, Newton Christian Conference Center where the Junior Camp is held and at Iowa Veterans Home.
AUGUST 2023
MONTHLY MEETING AUGUST 2023
At the August Monthly Meeting, Commander Michael Knight presented an American Flag Kit to the Wnner of the Urbandale 4th of July Button Contest, Pat Finnerty, a member of the Urbandale Historical Society. Also, Don DeKock, 6th District Commander, presented American Legion Post 663 with The Service To Community, State, and National Award. This award is given for Outstanding Service to the Urbandale IA community, the State of Iowa, and to the National American Legion organization.
AUXILIARY BREAKFAST AUGUST 2023
CITY PLANNER'S OFFICE AUGUST 2023
INDEPENDENCE DAY PARADE – JULY 4TH 2023
FLAG RETIREMENT 2023
Post 663 and VFW Post 9668 retired several flags in a ceremony on Saturday, June 17, 2023.
Jacob Rueber played taps for our annual Burning of the Flags.  Jacob is from Norwalk, graduated this year, and was our Post's representative at 2022 Boys State in Des Moines. Jacob's mother was a Girls State  attendee. Jacob will be attending Iowa State in the Fall, majoring in aerospace engineering. Thank you Jacob! Salute! 
WOMENS VETERANS DAY LUNCH
Peg Mullen and Connie Gregory attended a Womens Veteran Day Luncheon on June 8, 2023 at the Valley Junction Activity Center. Guest Speaker Major Lillie Miller from the Des Moines Police Academy shared her thoughts of women stepping up and out to be our own voices to shift the culture. A meal was served, prizes were awarded and two received Quilts of Valor. This is an annual event sponsored by AmVets, VFW Post 3519 Knoxville, VFW Post 8879 Valley Junction and several Veterans Service Organizations.
POST 663 EVERLASTING MEMBERS CEREMONY IN MAY 2023
MONTHLY DINNER APRIL 2023
Legion Post 663 had their monthly dinner and special speaker Matt Wolf VA Representative. Matt gave a wonderful presentation about updates and service-related changes. An excellent turnout for the event!
AUXILIARY IN APRIL
Urbandale Unit#663 provided the coffee and muffins for the Spring Conference held in Ankeny on Saturday April 15. Joann Hotovec and Diane Holcomb were there to help serve the Auxiliary and Peg Mullen was there to help serve the Legion guys.
Also, Legion Auxiliary Unit 663 from Urbandale Iowa assisted the Veterans in Marshalltown Veterans Home play Bingo on April 21, 2023. The group who helped were: Connie Cade, Ginny Campbell, Peg Mullen, Joann Hotovec, Meribeth Haynes, Diane Holcomb and Dorothy Schneider. The Auxiliary agreed, "It was such a worthwhile day visiting with our veterans."
MONTHLY DINNER MARCH 2023
On Thursday the 16th of March the Post had our monthly Dinner Meeting. It was a good turn out even with our weekly snow storm. The Dinner was catered in with a Mexican Theme and the food was delicious including Joann home made cake!
Also at the March Dinner Meeting, we honored Ted Rutherford for being an American Legion member for 50 years. Congrats Ted!
HIGH SCHOOL AWARDS
On March 4 at the Holiday Inn on Merle Hay in Des Moines Iowa, Post 663 was chosen by the Iowa Academic Decathlon Organization, to present awards to over 300 students representing High Schools from all over the state of Iowa.
HONORARY ARMED FORCES REPRESENTATIVE OF THE DAY
On February 11, 2023, Legionnaire Stephen Smith from American Legion Post #663 in Urbandale Iowa was designated as Honorary Armed Forces Representative of the Day at The Magic Kingdom in Florida. Stephen participated in the Flag Retreat Ceremony on Main Street. He marched with the Disney Detail and carried the flag. Every member shook his hand and Thanked him for his service to our country.
FOOD DRIVE / RETIRING WREATHS ACROSS AMERICA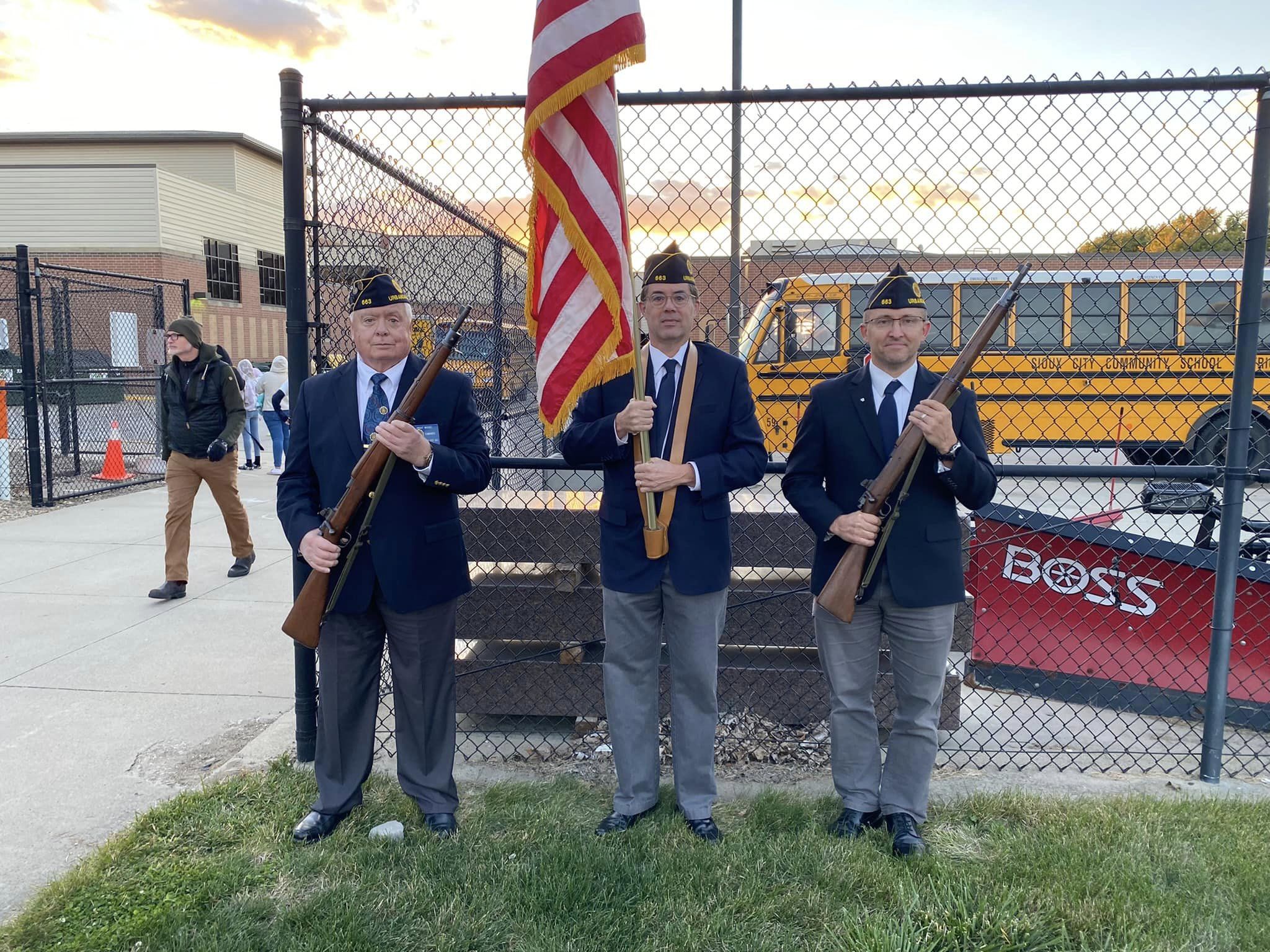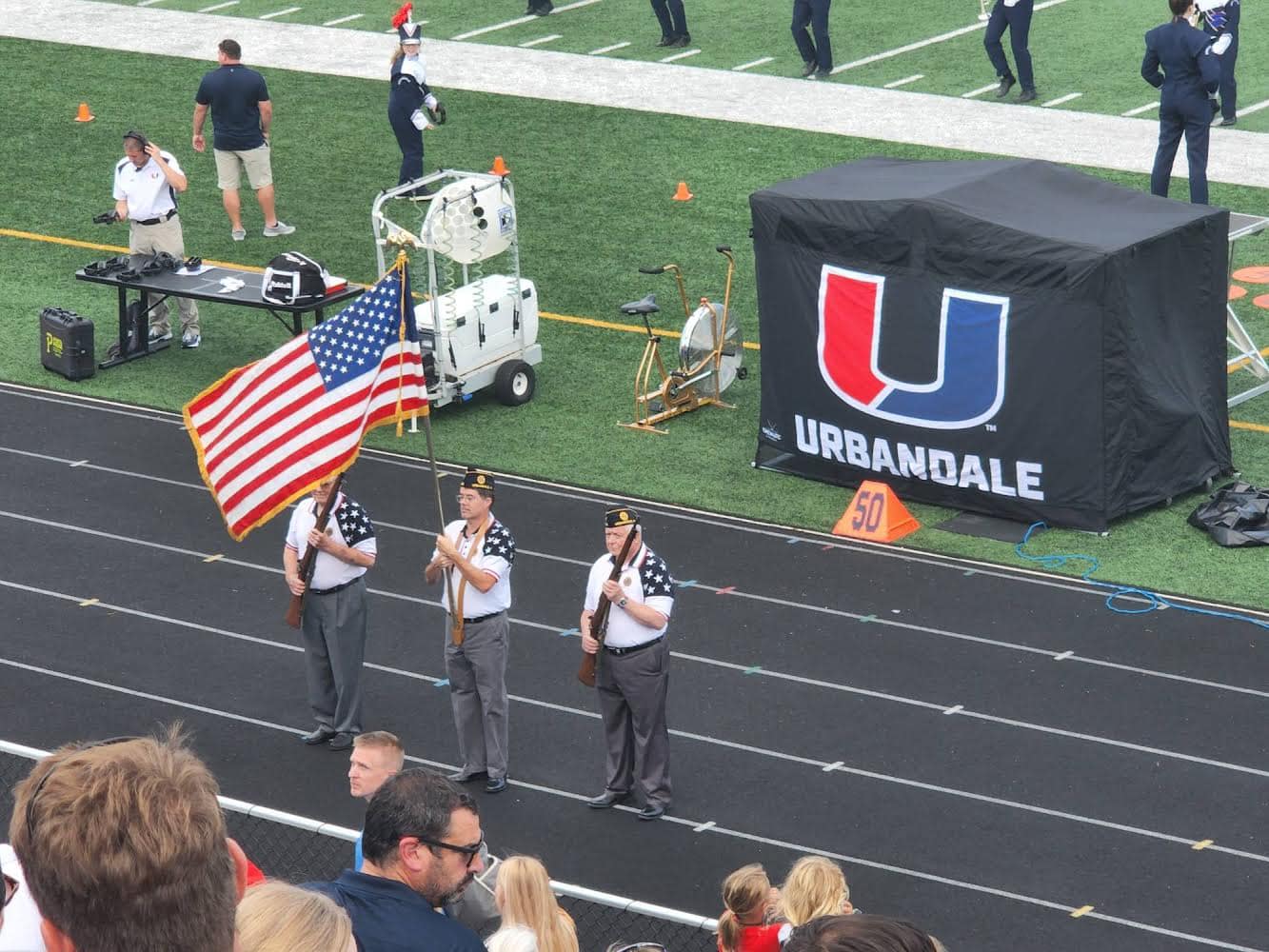 Honor Guard - SEP 16 2022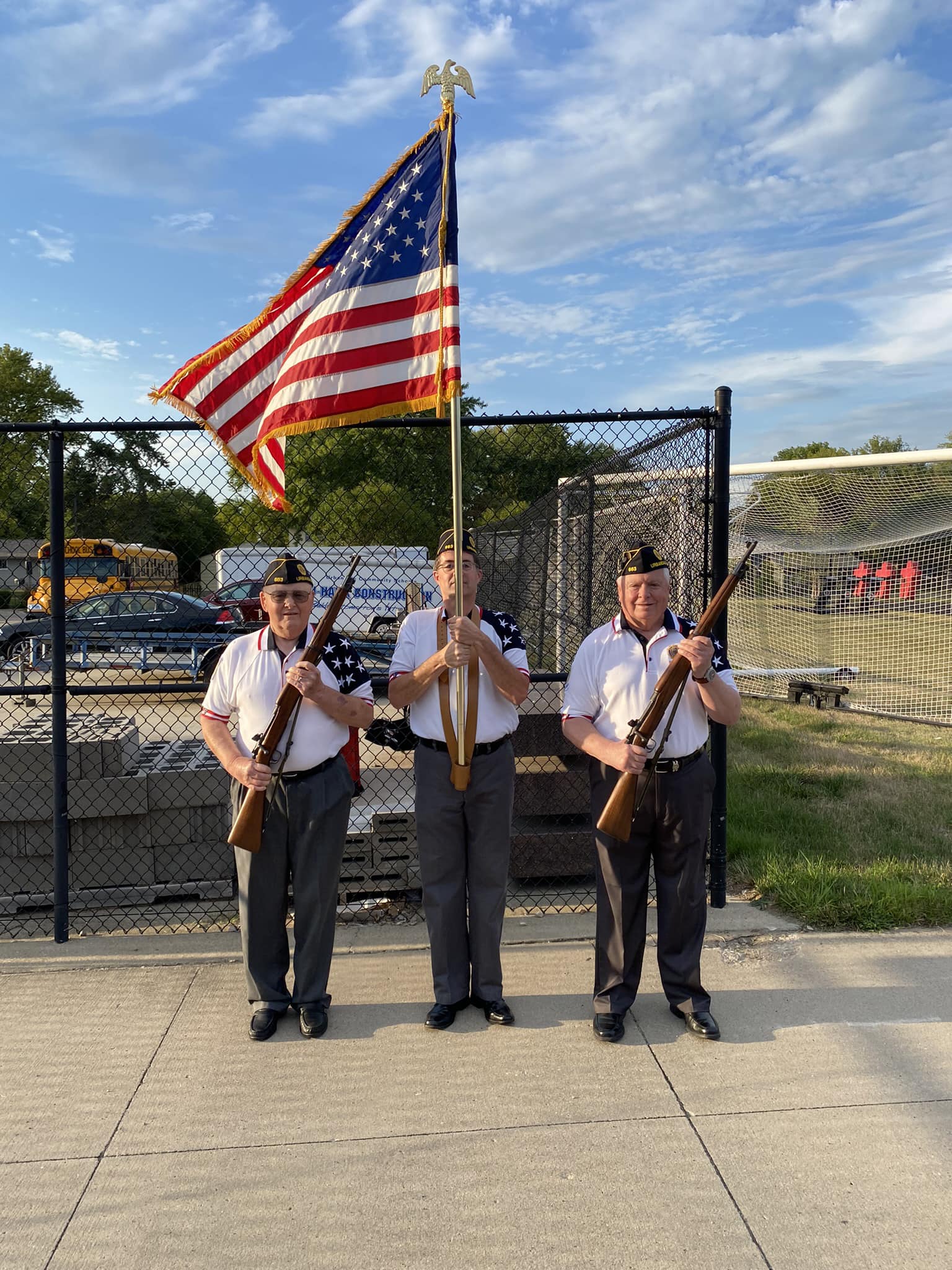 Honor Guard - SEP 30 2022
MEET & GREET
On September 21,2022 the VFW Post 9668 hosted a Meet & Greet at American Legion Post 663. It was well attended and the food catered by Hy-Vee was very good!
BREAKFAST WITH HONORS
On August 12 the American Legion Auxiliary Unit 663 of Urbandale hosted a breakfast for 45 people to honor the 3 girls who attended Girls State and the 1 boy who attended Boys State.
Pictures include Joann Hotovec, President, welcoming everyone, Meribeth Haynes, Girls State Chairman, introducing the honorees. Charlotte James, Dowling High School, Taylor Tallman, Dowling High School, Lily Fleming, Johnston High School. Lily is a third generation to attend Girls State. Jacob Rueber, Norwalk High School. They shared all of their experiences with us.
On September 16 and 17, there were 7 of us who volunteered at the Stand Down project in down town Des Moines. We passed out back packs filled with school supplies to the children. Unfortunately pictures were not permitted,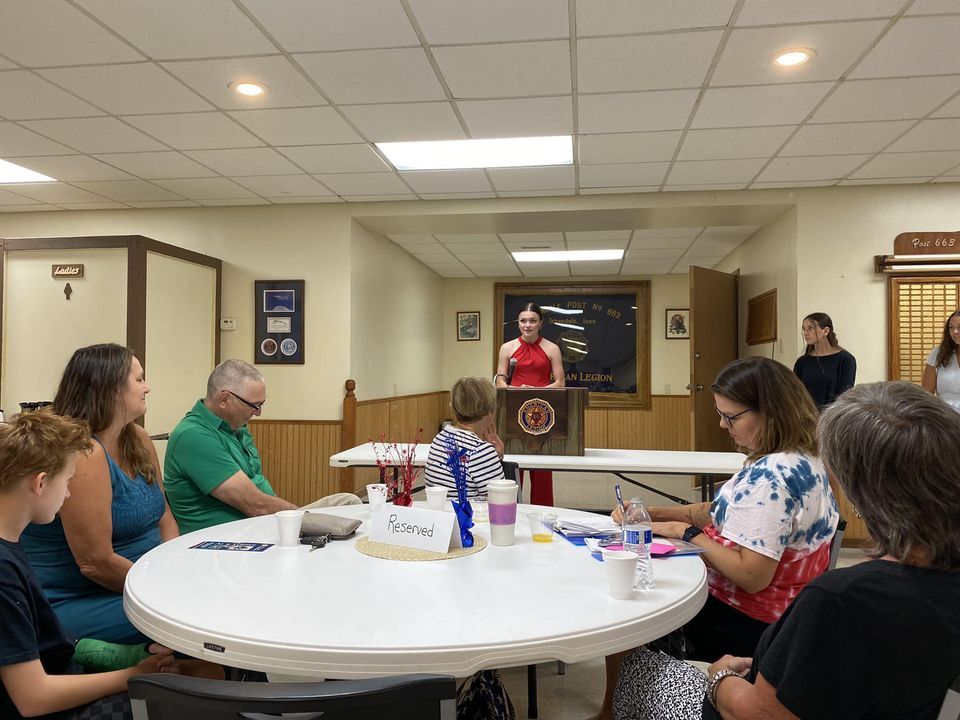 Charlotte James, Dowling High School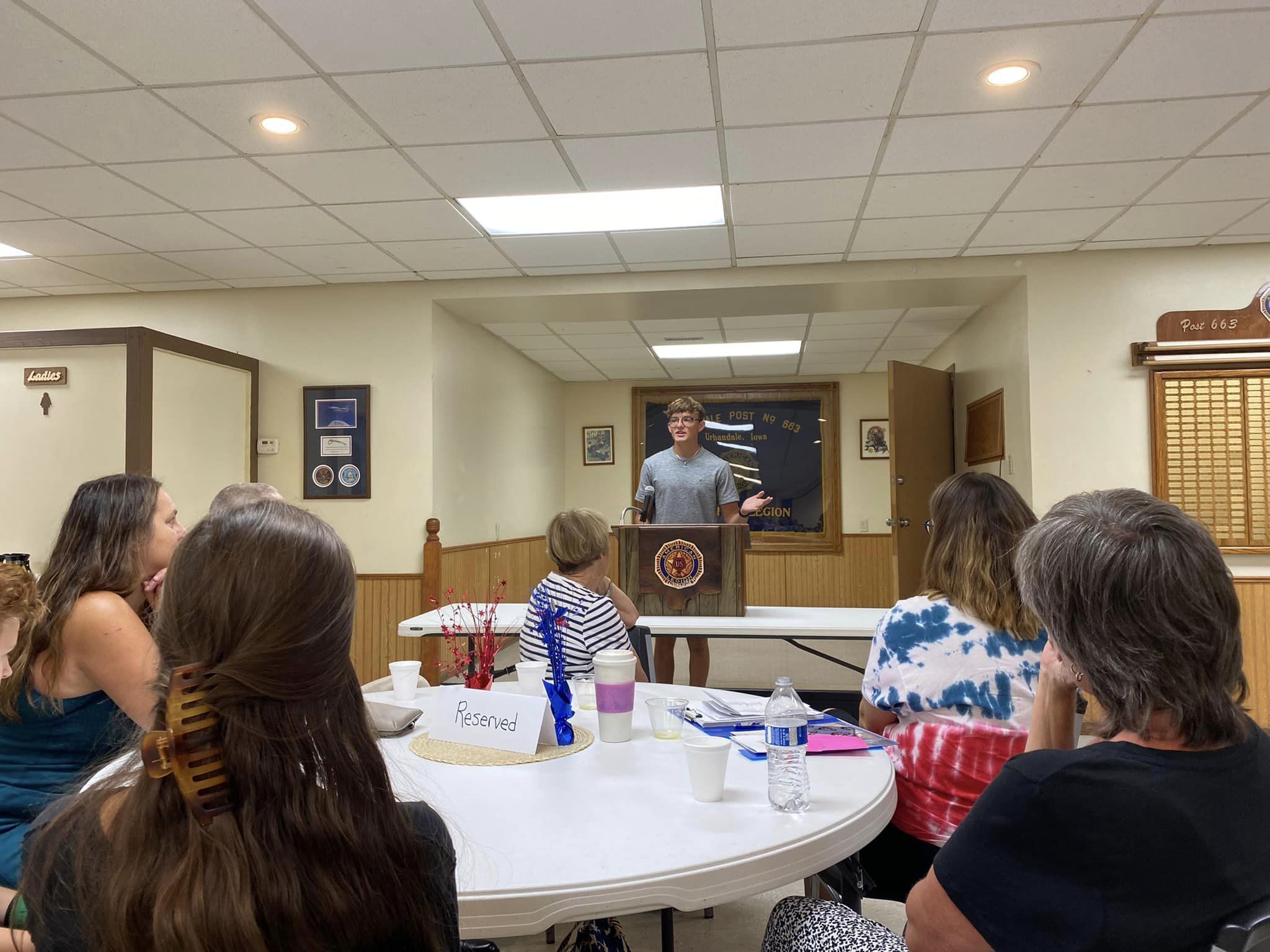 Jacob Rueber Norwalk High School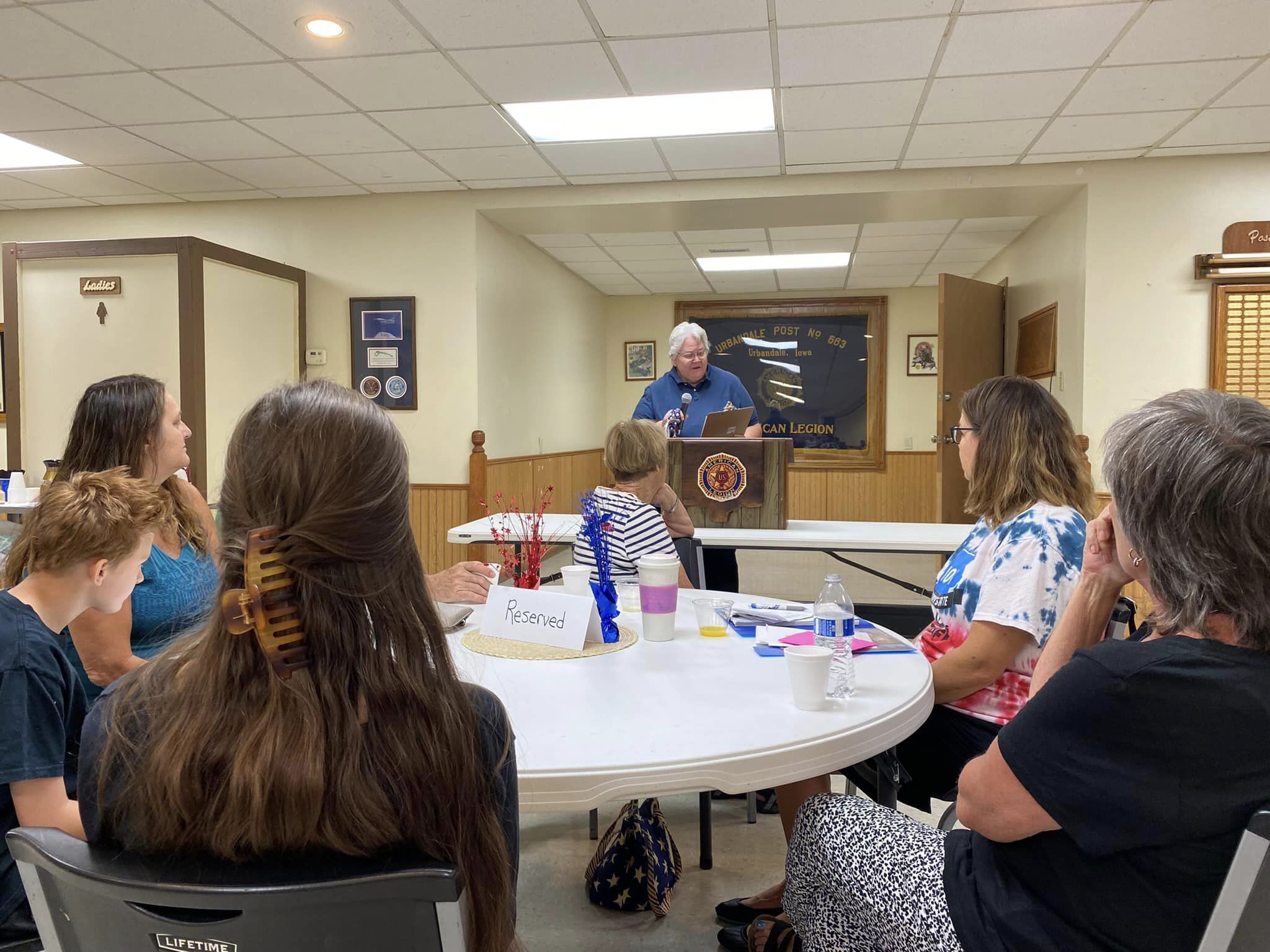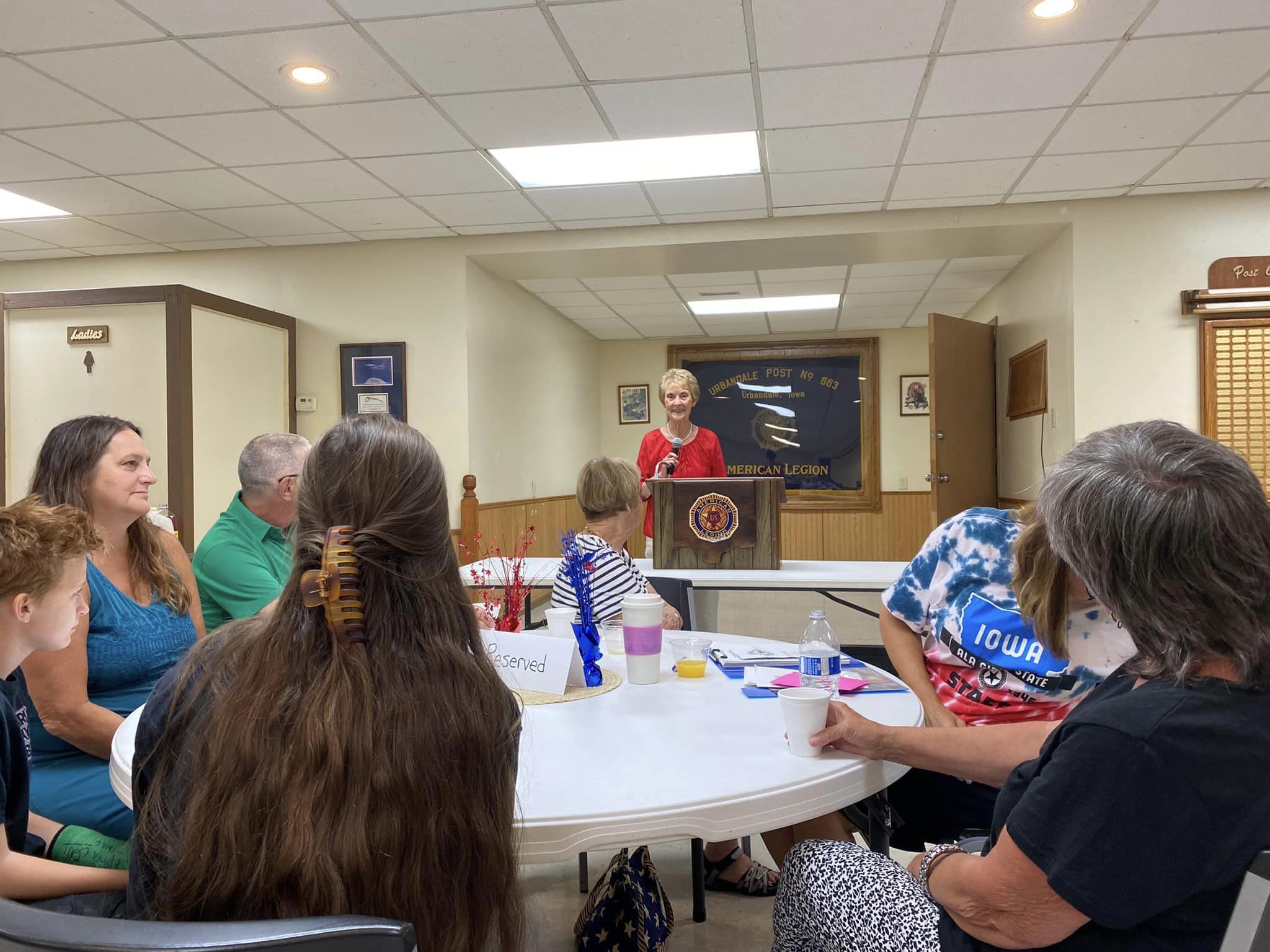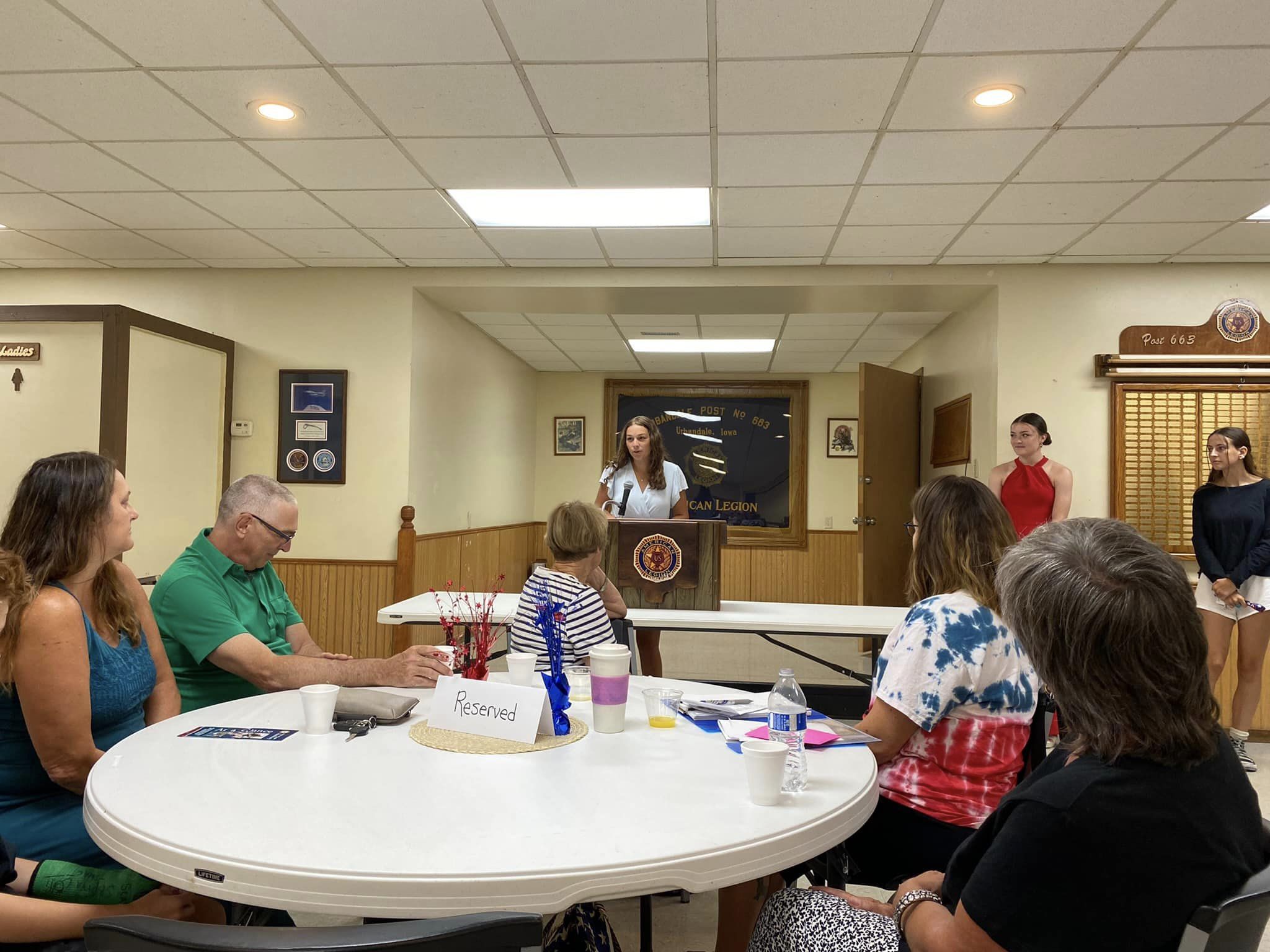 Taylor Tallman, Dowling High School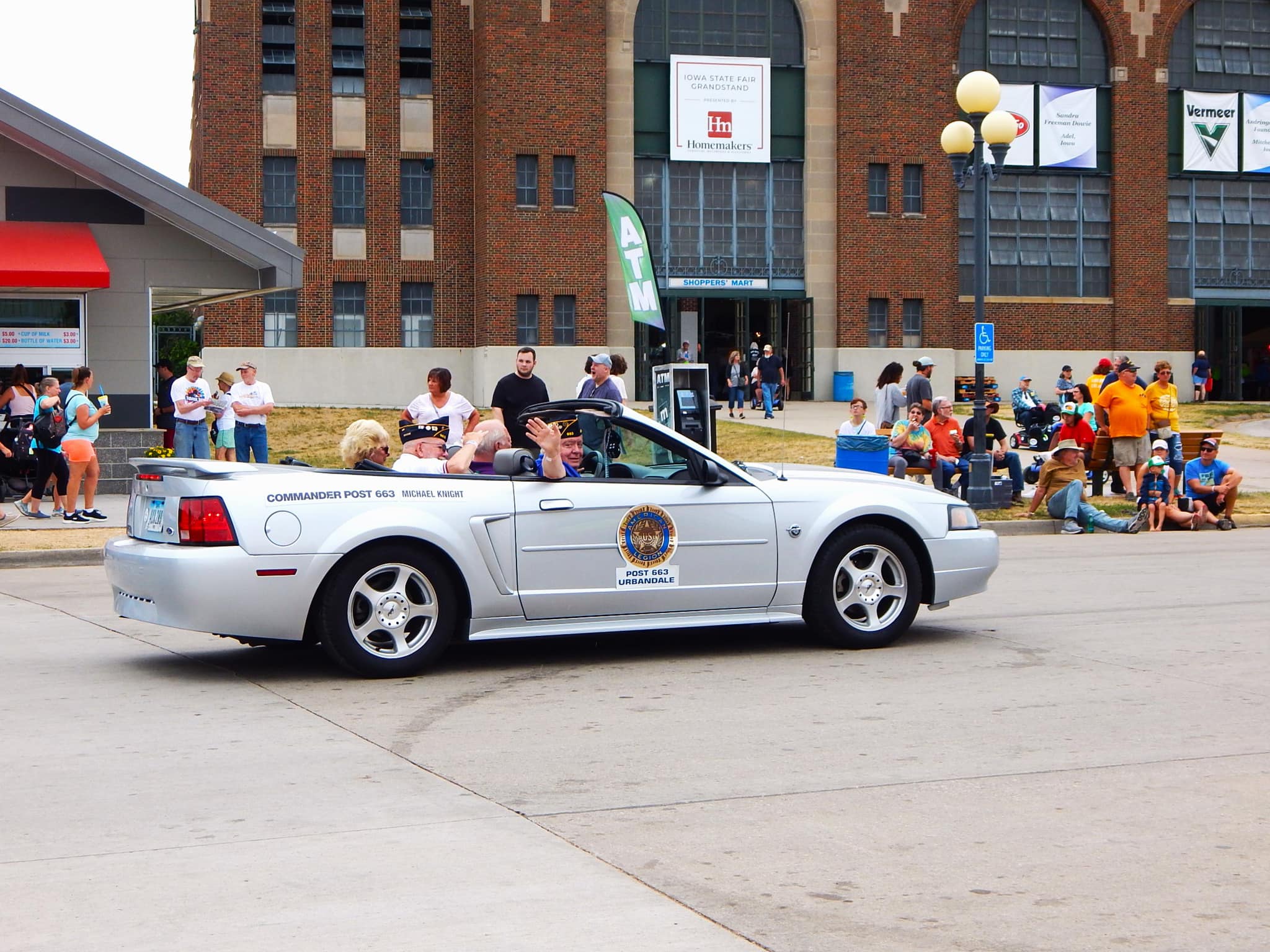 Iowa State Fair - AUG 2022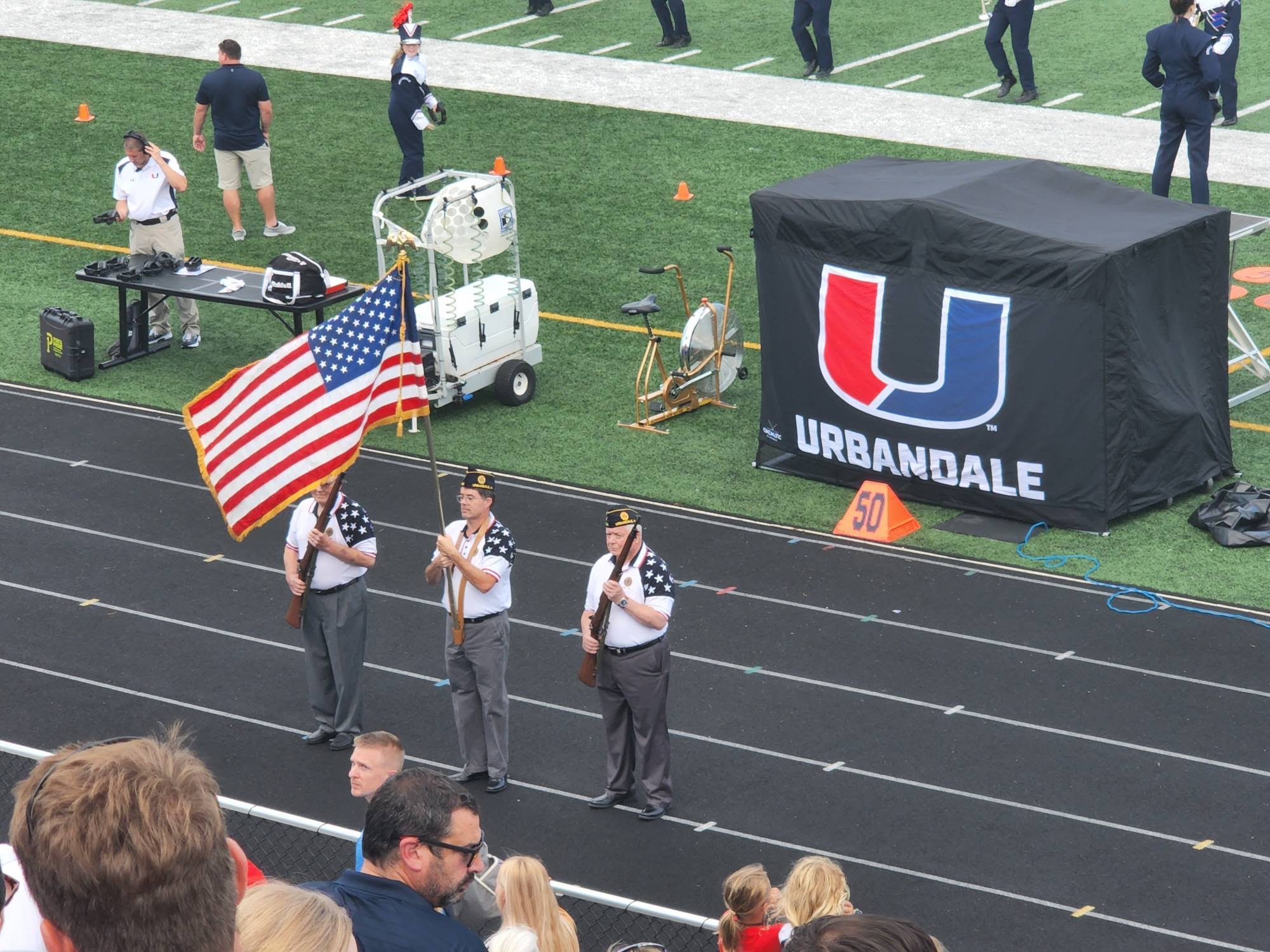 Honor Guard - AUG 26 2022